Cooperative missions are an exclusive feature to Forged Alliance Forever.
Supreme Commander: Forged Alliance Campaign
Supreme Commander Campaign
Can be played solo or with up to 4 players.
All FAF graphics improvements
Adjustment for cooperative difficulty
Slightly better campaign AI
Additional secondary objectives (thanks to gregory1001)
Cooperative leaderboard. Fight for the best time!
The interface is mostly self-explanatory, but we'll document it here anyway, as labeled:
Hosting Missions
Select the desired mission from the dropdown list.
Set the game title (Required)
Set a password (Optional)
Join Hosted Mission
Double click on hosted game in order to join it. Enter any password as normal.

Leaderboards
Here you can see the best times for selected mission. Watching these can give you a lot of information on how to beat a mission if you're struggling with it!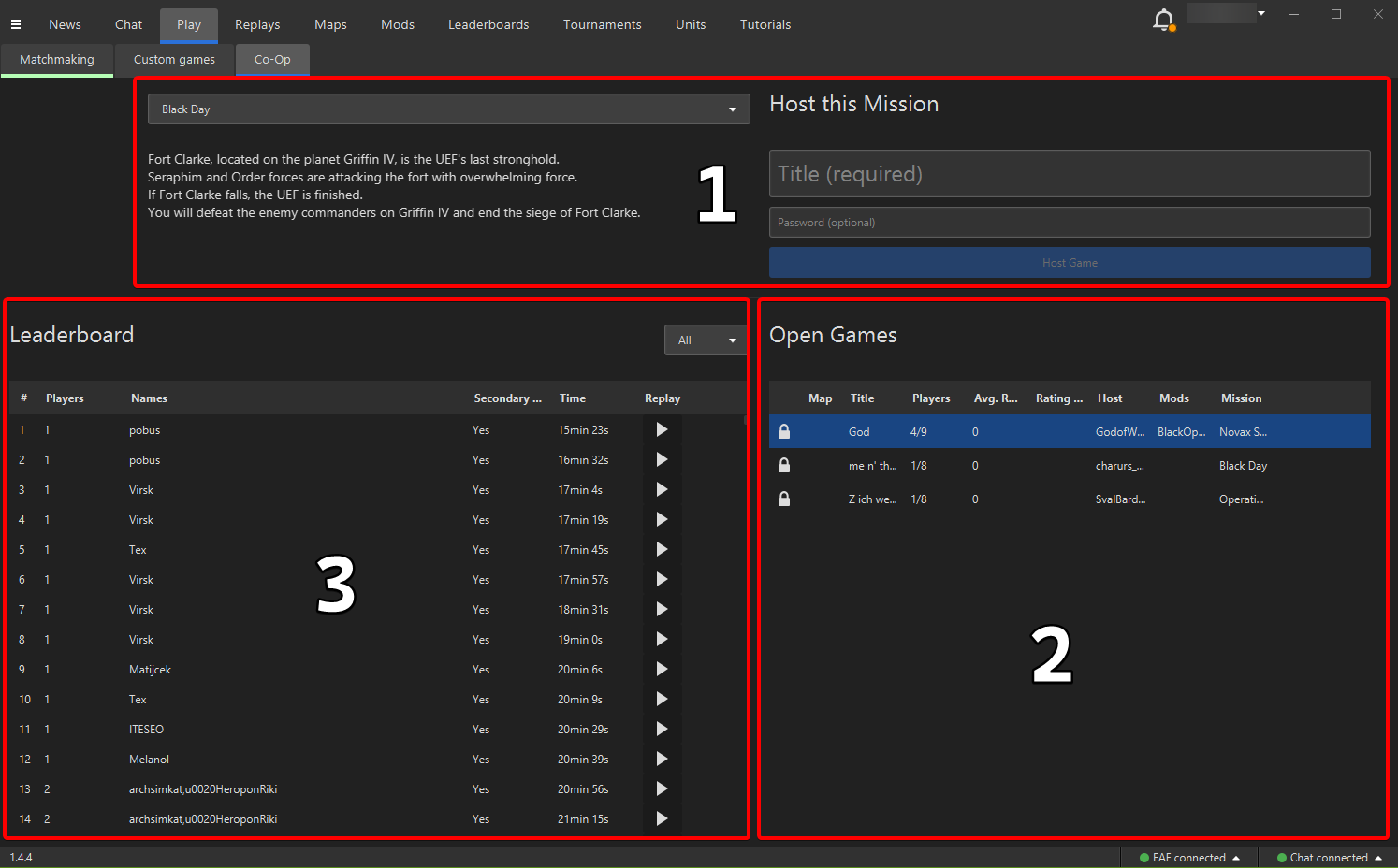 | FA | Supcom 1 - UEF | Supcom 1 - Aeon | Supcom 1 - Cybran | FAF Custom | Seraphim Campagin |
| --- | --- | --- | --- | --- | --- |
| Black Day | Black Earth | Joust | Liberation | Prothyon - 16 | Operaion Yath-Aez |
| Dawn | Snow Blind | Machine Purge | Arifact | Fort Clarke Assault | Operation Tha-Atha-Aez |
| Red Flag | Metal Shark | High Tide | Defrag | Theta Civilian Rescue | Operation Uhthe-Thuum-QAI |
| Meltdown | Vaccine | Enity | Mainframe Tango | Novax Station Assaault | Operaion Loz-Shavoh-Kael |
| Mind Games | Forge | Shining Star | Unlock | Haven's Invasion | |
| Overlord | Stone Wall | Beginnings | Freedom | Operation Trident | |
| | | | | Operation Rescue | |