Cooperative missions are an exclusive feature to Forged Alliance Forever that makes it possible for players to tackle the missions as a team, as well as on their own.
In addition to the original GPG campaign missions from the original Supreme Commander game and the Forged Alliance expansion, exclusive FAF campaign and single-scenario missions created by the FAF community can also be found.
Supreme Commander campaigns
Supreme Commander: Forged Alliance campaign
FAForever campaigns and single scenarios
Can be played solo or with up to 4 players.
All FAF graphics improvements
Adjustment for cooperative difficulty
Slightly better campaign AI
Additional secondary objectives (thanks to gregory1001)
Cooperative leaderboard. Fight for the best time!
Custom "M28AI" that can be played with as a teammate similar to a human player
The interface is mostly self-explanatory, but we'll document it here anyway, as labeled:
Hosting Missions
Select the desired mission from the dropdown list.
Set the game title (Required)
Set a password (Optional)
Join Hosted Mission
Double click on hosted game in order to join it. Enter any password as normal.

Leaderboards
Here you can see the best times for selected mission. Watching these can give you a lot of information on how to beat a mission if you're struggling with it!
Note that a mission must be cleared in 'hard' difficulty in order to qualify for the leaderboard. Difficulty can be changed in the lobby through usual mission options.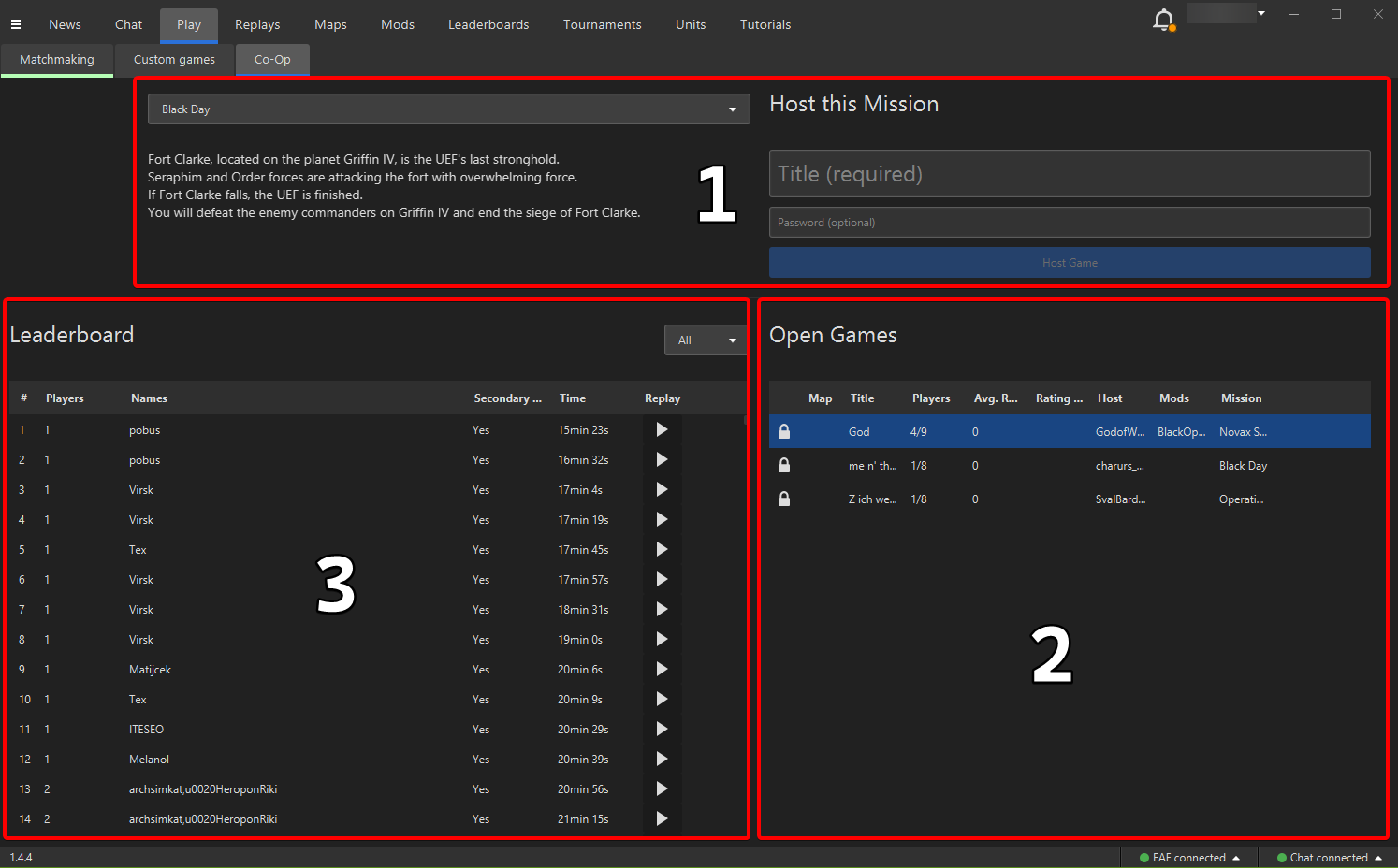 | | SupCom - UEF | SupCom - Aeon | SupCom - Cybran | | SupCom - FA |
| --- | --- | --- | --- | --- | --- |
| 1 | Black Earth | Joust | Liberation | | Black Day |
| 2 | Snow Blind | Machine Purge | Artifact | | Dawn |
| 3 | Metal Shark | High Tide | Defrag | | Red Flag |
| 4 | Vaccine | Entity | Mainframe Tango | | Meltdown |
| 5 | Forge | Shining Star | Unlock | | Mind Games |
| 6 | Stone Wall | Beginnings | Freedom | | Overlord |
Similarily to the original campaigns, these are linked in story, and it is advised they be played in order.
| | Seraphim Campaign | Coalition Campaign |
| --- | --- | --- |
| 1 | Operation Yath-Aez | Blockade |
| 2 | Operation Tha-Atha-Aez | Holy Raid |
| 3 | Operation Uhthe-Thuum-QAI | Golden Crystals |
| 4 | Operation Ioz-Shavoh-Kael | |
These missions are single scenarios, meaning they are not linked to larger campaigns or other single scenarios and don't require playing in particular order.
Custom scenarios
Prothyon - 16
Operation Rescue
Theta Civilian Rescue
Novax Station Assault
Fort Clarke Assault
Tight Spot
Haven's Invasion
Operation Trident
FAForever campaigns are on average harder than the original GPG campaigns - don't forget you can adjust the difficulty setting in the lobby prior to launching the game
Coalition Campaign missions were designed to be played by co-op teams, rather than as solo missions - they will present quite the challenge for those attempting to play them solo
If you want to play a co-op mission with an AI buddy (instead of solo or with a human) you can install the M28AI custom AI and have it as a teammate (which currently supports the "SupCom - FA campaign" and the original suppreme commander missions in co-op) - see the Custom AI section for further details on using Custom AI.